Hi Will, my hairline has been receding since the age of 17. I'm 21 now and my hairline has receded worse, and I feel so bad at how I look that I barely communicate with people anymore 🙁 I want to know if excessive masturbation could have anything to do with my hairloss, but its supposedly a myth?! Is there any info you can share on this topic, Will?
I took your quiz. Sadly, the answers I gave were as of my early 20s, when my hairline started receding and had that 'M shape'. I receded to Norwood 3, but mysteriously, the receding stopped there. The only explanation I can think of is that I gave up junk food and started eating more fresh fruit and veggies and started regular running and hiking. I lost a lot of weight and felt great. Until my early 50s, when suddenly my hair began to rapidly recede and I developed a bald spot in back. I panicked, thinking that I might have a serious medical condition, since I had not changed my good living habits. My doctor reassured me that I was still very healthy. Next stop: hair restoration specialist. He informed me that I had male pattern baldness and would eventually go completely bald on top. To my surprise and delight, my wife was thrilled that I was going bald and begged me to just let nature take its course. She confessed to me that she had always secretly wished that I would someday go bald and was delighted that her wish was finally coming true. Reluctantly, I agreed to just let myself go bald. Two things amaze me: First, how fast I went bald (less than two years to go completely bald on top). It was as if I was making up for lost time. Secondly, the sudden change in my attitude. Whereas I was panicked my wife would hate it, now thanks largely to her encouragement, I couldn't go bald fast enough. It was a huge turn of for my wife and me. She still loves to sneak up behind me while I'm relaxing watching TV news or sports and kiss me on top of my bald head. I haven't just adjusted to being bald. I really love being bald and wouldn't ever try to regrow my hair. Not at my age. I'm in my 70s and it is quite normal for someone my age to be bald. The information you email to me I will pass on to my two sons, who, like me, face the likelyhood that they will eventually go bald. They are in their mid 30s and their hairlines are beginning to recede a little at their temples. I chose to go bald. They don't have to. Oh, a third thing amazes me: that there are women out there who prefer bald men to men with a full head of hair. Thank God I am married to one of those women.
Like anything else, genes from mom can play a role. But she's only half the pie. You can also inherit these genes from your father, says Dr. Alan J. Bauman, Hair Restoration Physician and founder of Bauman Medical. "Hair-loss genes can be inherited from either your mother's or father's side of the family, or a combination of the two," he says. He adds that there are roughly 200 different genes that regulate your hair growth, so the combination of these genes—from both parents—can be unique and won't always pattern itself from one sibling to the next.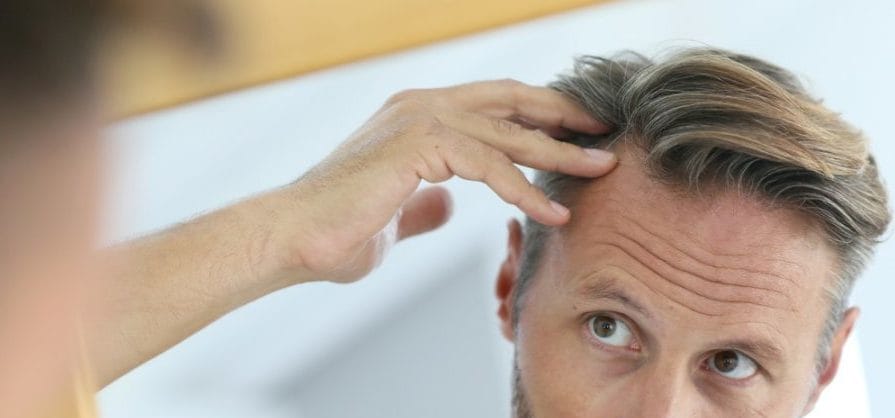 Hair loss is a pretty tricky topic and most experts and doctors are never really able to pinpoint the cause. However, if you are looking to reduce your chance of hair loss or slow hair loss that is already progressing, you should consider the factors listed above. Your doctor may help you determine if a hormone imbalance or other medical condition may be the cause of your premature hair loss. If so, they may suggest hormone therapy, diet changes or other medications and treatments to help manage to condition or balance your hormones, which may naturally solve your hair loss problem.
Terrible diet may not be the reason of what is strictly defined as "balding". Though, lack of essential nutrients for example proteins, vitamins, keratin, plus minerals can guide to harsh hair fall which could report to baldness. Fair meals make sure good furnish of nutrients to hair follicles. Furthermore, healthy food suppresses hormones for example DHT. Dihydrotestosterone otherwise DHT is a hormone which plays a main role in causing hairlessness in men.
The notion that only middle-aged men experience baldness isn't only false, it's damaging. It causes 20-year-old men to feel self-conscious about their hair loss, meaning that most of them refuse to confront the reality that their hair is thinning. Accepting this reality is the first step towards preventing hair loss from accelerating and getting worse.
In order to stimulate new hair growth, one part of the body must be given special attention: the hair follicles. To encourage new hair growth topically, warm the carrier oil of your choosing with a dash of cinnamon and a spoonful of honey. Mix it well before massaging onto the temples and scalp. Allow the mixture to rest on the scalp for around 30 minutes before washing away. To utilize the benefits of a basic potato, which comes packed with several vitamins and minerals, including vitamin C, simply add one for every cup of water, boil and set the liquid aside to cool. Rinse the solution through the hair after shampooing, massaging into the temples before washing away. Rubbing the essential oils of rosemary, peppermint or lemongrass into the scalp has also been thought to promote hair regeneration.
Hair loss often follows childbirth in the postpartum period without causing baldness. In this situation, the hair is actually thicker during pregnancy owing to increased circulating oestrogens. Approximately three months after giving birth (typically between 2 and 5 months), oestrogen levels drop and hair loss occurs, often particularly noticeably around the hairline and temple area. Hair typically grows back normally and treatment is not indicated.[21][22]A similar situation occurs in women taking the fertility-stimulating drug clomiphene.
In other words, no one's truly safe from the condition. But even in the face of these seemingly insurmountable odds, not all hope is lost for your precious locks. To show your hair some TLC (and prevent further thinning), look out for these surprising culprits—and combat them accordingly. And if you need a quick way to mask any thinning hair, just check out the 15 Best Haircuts for Looking Instantly Younger.
Before you venture into the confusing world of Internet hair loss advice, you should first pay a visit to a hair loss specialist. The doctor will sit down with you and discuss your family and medical history, then take a look at your hair loss and make a recommendation. The doctor might recommend one of the following treatment options for young males who are experiencing hair loss:
One-fifth of men will experience significant hair loss by age of 20(!), and that percentage grows proportional to age. Bauman says that significant loss increases steadily with age: 30 percent will experience it in their 30s, 40 percent in 40s, and so on. "This math proves true for men into their 90s," he says. "If you go unchecked but have maintained most of your hair by middle age, then your sensitivity to DHT is probably on the low side, meaning you have a slower rate of male pattern hair loss going on." 

I went to a lot of these sites trying to read about what was happening, and if I would go completely bald or if my hair would grow back. I never seemed to get any answers and it made me even more anxious about my life in general… worrying that I would be bald. I can assure you that if you commit to becoming a healthier person all around your hair will most likely stop falling out and go back to its original state. The most important thing is to STOP STRESSING, allow yourself and your body to heal and your hair will follow.
1.Biotin or Vitamin B7, is a water-soluble vitamin that's a part of the vitamin B complex — a group of key nutrients needed for healthy metabolic, nerve,digestiveand cardiovascular functions.Biotin acts as a coenzyme in the body that's needed for the metabolism of fatty acids, amino acids and glucose. This means that when we eat foods that are sources of fats, proteins and carbohydrates, vitamin B7 biotin must be present in order to convert and use these macronutrients for bodily energy, to carry out physical activities and for proper psychological functioning.Biotin is also a nutrient that helps us keep a young, attractive appearance since it plays a major part in maintaining the health of our hair, nails and skin. In fact, biotin sometimes gets the nickname the "H" vitamin, which stems from the German words Haar andHaut that mean "hair and skin." Vitamin B7 biotin is commonly added to hair and skin beauty products, although it's believed to not be absorbed very well through the skin and actually must be ingested to be fully beneficial.Biotin can be found in foods like organ meats, eggs, avocado,cauliflower,berries, fish, legumes and mushroomsNote-taking Egg white cause Biotin deficiency, eat the Whole egg. Biotin helps in regrowth of Hair. 

Topical chemical treatments are used by many to help stimulate regrowth, although some believe that blood flow and circulation to old or weak hair follicles can be stimulated with only the fingertips and some common vitamin-rich items. Popular remedies for encouraging new hair follicle growth include combining a rich carrier oil like jojoba, coconut or olive oil with agents like vitamin-dense or mineral-dense aloe vera gel, potato juice, cinnamon, neem leaves or certain essential oils.
In men, finasteride (originally marketed as Proscar) is approved for hair loss associated with androgens. In one study, 62% of women also taking oral contraceptives containing the synthetic progestin drospirenone reported improvement. So it may be effective for female hair loss in the setting of increased androgen. But studies are limited and it is harmful to the male fetus so should not be used by women thinking about becoming pregnant or who are pregnant.
If you're going through or about to enter the menopause, changes in your body may also have an effect on your hair. "Hair loss becomes more prevalent leading up to and after the menopause" reveals Anabel. That being said, "it's important to realise that our hair ages, and as we get older, hair naturally gets finer. It's a totally normal part of the ageing process."
In males over 60, androgen receptor and aromatase levels were low and comparable in scalp with and without thinning in both frontal and occipital regions. The 5a -reductase type 1 and 2 levels were only slightly higher in males with thinning hair in both frontal and occipital regions, but the differences were not significant. Histologic and hormonal findings suggest that senescent thinning is a diffuse process that is histologically similar to Androgenetic Alopecia, but hormonally different and may not be entirely androgen dependent.
Another way to diagnose what the problem is just by looking and listening, Rogers says. She asks what a patient's mother, aunts, or grandmothers look like - if they have similar, or greater amounts, of hair loss. Using magnification on the scalp can show if a woman's follicles vary in size - with some thick and others thin. These are two telltale signs of female pattern hair loss, also called androgenetic alopecia.
Styles: If you always part your hair on the right, try parting it on the left for added volume. A jagged part can hide a visible scalp, and can also make the top layers stick up, as if you've teased your hair. Blow drying creates volume as well. Loose waves, created with a diffuser and sea salt spray, can make hair appear thick and bouncy. So can curling your hair. A half-pony (think "Sleeping Beauty") with the bottom half curled or left straight, and the top pulled up high, adds fullness and height. African-American women with thinning hair may want to try side bangs, twist outs, and updos with cascading hair and bangs, using the hair you have to cover the thinning spots.
The important distinction between male pattern baldness and female pattern hair loss is that, whilst men may develop absolute baldness – when the damaged follicles can no longer function so hair growth stops, and the skin takes on a smooth, shiny appearance – this is rare in women. Women's hair loss may become advanced, but true baldness – as men experience it – is highly unlikely.
Another of the key clues is a feeling that the hair is not as thick as usual – for instance when putting the hair into a ponytail, it may seem less dense. Although this may make it difficult for any obvious changes to be observed, many women intuitively know when something is different – and this would be a good time to see a hair loss expert to ascertain exactly what is going on.
Your body needs to be hydrated in order to function properly. Load up on H2O all day long and pass on juices, sodas, and other flavored drinks that contain more sugar than your body needs. The amount of water needed varies from person to person and depends on various factors, including overall health and exercise intensity. As a general rule, however, you should aim to have eight 8-ounce glasses of water per day.
The relationship between food and hair is simple. Hair is made up of a protein called keratin. So, it's essential that you include sufficient protein in your diet. A low-protein diet forces your body to save the available protein for other purposes, like rebuilding cells, thus depriving hair of it. Dr Shah says spinach, almonds, walnuts, paneer, tofu and milk are hair-happy foods. Green tea is effective because it blocks out Dihydrotestosterone (DHT), the hormone that causes hair loss.
If we are experiencing hair loss or thinning hair because our female hormones are in decline, then it only makes sense that replacing estrogen and progesterone through pills and creams might help. Another treatment option might be low-androgen index birth control pills. (High-androgen birth control pills can create more hair loss. Great! Just what we need — more hair loss!)
Stress is one of the major hair fall reasons. A hair follicle needs energy to grow. Coenzyme Q10, found in whole grains, fish and meat, boosts the scalp's ability to produce energy, especially in a cell's mitochondria or energy factory. Stress causes oxidation, harming Coenzyme Q10 among other anti-oxidants, thereby being one of the major contributors to the list of reasons for hair fall.